Here is exactly how some recent students feel about Brett McFall:

With zero prior experience – a $2,997 sale within weeks of starting Fast Client Formula

Within just weeks of each other, a second $5,000 sale for this member.
Craig Carr – www.FreedomSalesAcademy.com

When the Fast Client Formula system kicks in, the warm leads start to line up daily

A $5,000 sale for a complete beginner to the program – all within 45-minutes

You're reading this correctly – this member made 4 x $5,000 sales in just 6-days
Tracy Secombe – www.TracySecombe.com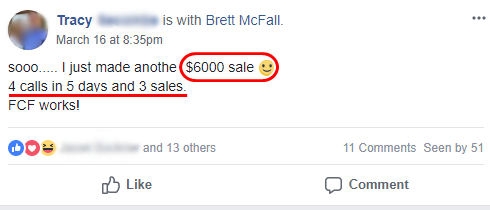 This member made 3 x $6,000 sales in just 5-days
(and she had never done anything like this before)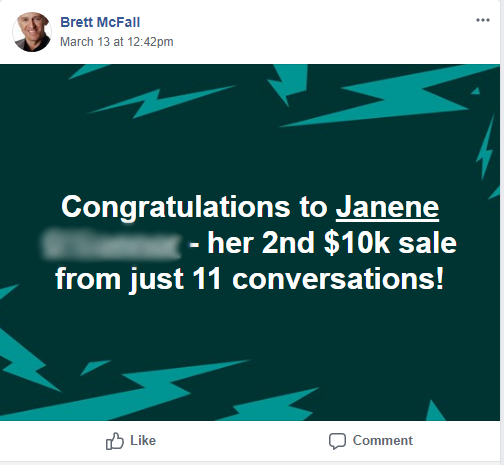 From only 11 phone conversations, this member made $20,000 sales in sales
(and she had never done anything like this before)
Beverley Unitt – www.BeYouSuccessCoaching.com.au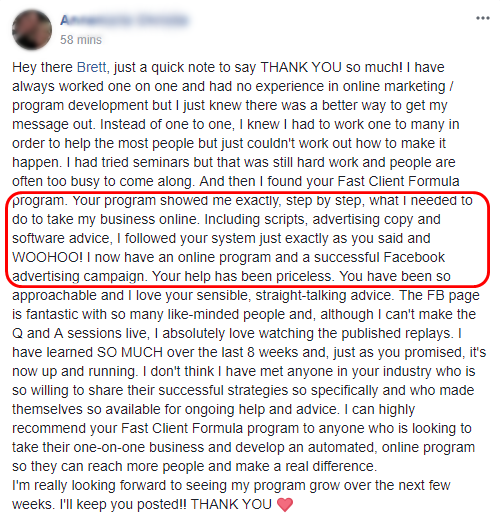 This Doctor quickly made 3 x $2,997 sales with her program about better parenting
(this member had never done anything like this before)
Jayden Raye, www.jaydenraye.com
"Wow! Brett lives up to every expectation I had of him going into the program.
He is committed to helping anyone who listens to him and follows his advice, and who wants a way out of their personal hell and into paradise. The information I've learnt so far from Brett is priceless.
I recommend that if you want to improve your business and your life, give Brett a shot. You won't regret it. He is awesome."
Greg Keenan, NZ
Just made my first sale! And only been doing course for 4 days. Exciting beginnings. I created two Facebook pages as you suggested, as it didn't cost anything to do, and I got all my friends and my wife's friends to like it.
I then looked on Clickbank for a product that would fit each Facebook page and added it to the call for action button.
1-day later I got a hit! My two face book pages are "Amazing images" and "Top health secrets."
Out of the $39 I made I spent $10 on fiver to promote the "Top Health Secrets" page to get more traffic and $16 on Facebook. And the funny thing was because I have only just started reading your book "How To Make Money While You Sleep."
The $39 was made at 5am so while I was sleeping. Hahahha love it.
Thanks Heaps!"
Teresa Kerin, Queensland
"I was stuck in overwhelm before this seminar as I started creating a website by myself. Brett gave me important information and ready to use tools to enable me to get results quickly. Don't lose more of your precious time worrying. There is a way and thanks to Brett, I now know that."
Alfred Bellanti, New South Wales
"If you want to learn Internet Marketing Brett McFall is an excellent teacher. He will teach you the basics so that you can go and do it."
Janice Cowan, Victoria
"The content in this presentation means beginners can relate and process the information, translate it into their opportunity and claim it as a business they could enjoy. The facts and figures did not overwhelm – they were REAL and palatable."
Liem Nguyen, Vietnam
I'm Liem Nguyen and I am an international student here in Australia. I've joined Brett's program about 2 months ago and today I'm proud to announce that I've made 2 sales from affiliating personal development products through Clickbank after following Brett's advice so far!
Woohoo!!!! I was laughing and crying at the same time because I know this stuff freaking works because I work it!
Eva Steinkamp, Queensland
"The number one thing I picked up from this seminar was that building an internet business doesn't seem to be as difficult as I always thought it was. Brett explained that it can be done in three easy steps. The research of micro-niches was shown in real time on the internet. Go to this seminar with an open mind and stay till the end because you won' be disappointed. "
Stacy Masters, Queensland
"You absolutely must attend. This is life changing."
Les Radnai, New South Wales
"You owe it to yourself to at least take a look at what Brett McFall has to offer. His strategies for making money are the simplest I've ever seen, and he literally gives away enough free information to get started immediately! Just do it!"
Missey Grace, Victoria
"Brett's knowledge sharing has inspired me to take action – not tomorrow – now!"
Linda Talese, New South Wales
"Very worthwhile and thoroughly enjoyed learning techniques on how to make money online."
Rhonda Lawson, Queensland
"If you want to understand how to do business on the internet Brett McFall is the only mentor with genuine no hype, step-by-step teaching."
Dahlia Devaraj, Queensland
"If you are interested in creating an automated income stream via the internet, you should come and attend the seminar."
Belinda Faulkner, Queensland
"The time you take out of your day is worth 100 times more than you outlay. The hints and tips that Brett gives to us all are priceless. Well worthwhile… it was an awesome, informative session."
Lorraine Taylor, New South Wales
"The 3-Step Secret event is a must if you want to earn extra money while you sleep and it's so simple once you know how.
Blazenka Krasey, Victoria
"What I appreciate the most about Brett McFall is – he is genuine and knows his stuff. He is a master at making complex things simple and fun at the same time. He always gives >much more than you expect and is there for the long term with support and integrity to help anyone who is willing to put the effort in. Thank you Brett :)"
Brendan Vlok, Queensland
"This seminar is well worth your time. As a result, a family member and myself are starting our own online business. :)"
Andrew Deneys, Victoria
"Brett revealed his step by step process detailing how to leverage outsourcing as a fast low risk process to developing a product. Pure gold! This event is for you if you want to generate an alternative income stream for very little outlay. There is enough detail to implement it yourself or take advantage of further training and support that is available."
Christine Deutsch, New South Wales
"If you want to be in business then building an online business is a great place to start. Brett's simple steps and the tips I got in today's presentation can be easily applied to any business – I've used the tips for my offline business with great success – but why not create a business that makes you money while you sleep. I left with renewed enthusiasm to take action."
Robert Proe, Victoria
"Brett McFall explains things simply and logically. He takes it step-by-step and provides all the detail to get started. His presentation style is both informative and entertaining. If you've got stuck on this stuff before Brett will give you the confidence to achieve something here."
Jim Valavanis, Victoria
"If you are looking at ways to make extra money passively month after month, then this is a seminar you can't miss, because once you do the initial work in setting it up by following Brett's 3 step formula the business should be 90% automated."
Peter Kroesche, New South Wales
"Brett is brilliant at explaining the whole concept of an internet business. You still get all the excitement and enthusiasm but you're not left with black holes of information necessary to your success. So do yourself a favour, cancel the bbq; cancel the fishing trip; even call in a 'sickie' at work. Seriously attending one of Brett's events will open life changing possibilities for you."
Trevor Bradley, New South Wales
"This is the best way for a person with small money resources to get started in the internet business."
Kathleen Ann, New South Wales
"If you're thinking about how you can make money on-line you need to get in front of this guy and learn what he teaches at 3-Step Secret. He'll save you time, energy and money and show you exactly how to set up a passive income stream that will pay you over and over again."
Liang Hung Wong, Victoria
"Brett 3 Step System is so simple. Most of the time, people make their online business so much more complex than necessary. If you want to start your own online business the simple way, follow Brett's method."
Harry Corones, Queensland
"However you came across this opportunity, grab it with both hands. It is the real deal. You are trained by people who are successful themselves and they will help you achieve success as well. Their guarantee is rock solid."
Steve Fordham, New South Wales
"Rearrange your diary. This is a must-attend event."
Jeffrey Cox, Victoria
"I think what I loved most was the total dedication that Brett has in ensuring that everyone who attended went home with a solid 3-point formula to get started making money via the internet, to provide an income and a lifestyle that most people do not have. Brett's passion to teach his proven methods really came across, with his open, friendly, and often humorous personality. The 3-step secret when faithfully followed, simply cannot fail. You will learn exactly how to get started with Brett's system. Brett's attention to detail is amazing and he is very happy to answer your questions too."
Christopher J Andrew, Victoria
"Brett is truly a master at internet marketing, and will explain everything in detail in a simple manner that anyone will be able to understand and implement to achieve online success. I have met Brett McFall in person several times and I believe he is the real deal, and very approachable. My answer to anyone who may have doubts about attending any of Brett's training seminars is JUST DO IT. Your mind will be opened up to what an amazing life you can have with a successful business on the Internet."
Shane Smith, Victoria
"The number 1 thing I picked up from this seminar is the fact that it all looks so easy. Brett has simplified the whole process down to a level where even I can understand it."
Margaret Hood, New South Wales
"The number one thing I picked up from the seminar was that if you follow the three steps that Brett showed everyone it is possible and not too hard to make a sustainable income from the internet. Go for it! Stop thinking, take action and start making money! If you can use a computer, you can start a successful internet business following Brett's three steps."