The amazing secret that resulted in $8,960 in sales… on AUTO-pilot
If you're after the little-known and simple techniques that put cash in your pocket, then chalk this one up as one to remember.
Just 5 minutes from now you'll know exactly WHAT he did and HOW he did it, so that you can try it out in your own marketing.
Automation expert, Jason Buckner reveals how a simple change he made to my marketing, ended up making me $8,960 in sales that I simply wouldn't have made without the strategy.
And it didn't cost me a thing.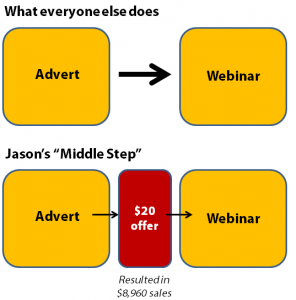 What did the 43-word "middle step" email say? Here it is:
Dear Friend,
Really excited that you're coming to see me LIVE for "30 Days To Internet Success."
Now, if you're wanting to get the most out of the training when you do attend, then you might be interested in this:
http://myvienna.com.au/challenge/1008-oto
Warmly
Brett
That's it! The best part? You can put it work for you too.